Going back to Sepang is always an incentive for all pilots who have raced there once. However, since October, 23rd of 2011 going back to Sepang is really hard. That day Marco Simoncelli, one of the greatest talents of the MotoGP grid, passed away. Tomorrow, Thursday, Fernando and Ferrari will pay tribute to "one of them", because even when "Super Sic" ran on a motorcycle, he was, above all, a pilot who loved the races. Fernando Alonso has had Simoncelli present in many occasions. IN the GP of India he wore the number 58 by Marco on his helmet. Months later, on the occasion of Wroom 2012 in Madonna di Campiglio, Fernando did not hesitate to wear a fun and huge wig to remind the Cattolica pilot.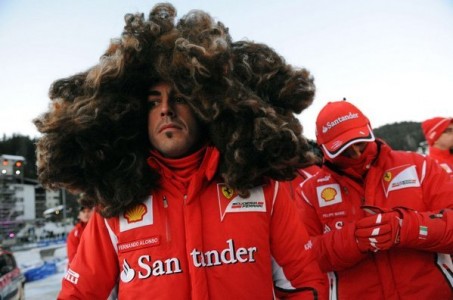 Fernando had really hard moments after the death of "Super Sic" and days after the tragic accident he stated "They´ve been really sad moments. I watched it on the news and stayed two or three days quite thoughtful and with unpleasant feelings. I spend several days with a weird internal feeling, of deep sadness and great impotence. We have kind of a feeling of being immune to danger, of being unbeatable. When we get into a car and we low the sun visor, we think that it is not possible that anything bad could ever happened to us. However, deep down inside we know that this is a really risky sport and that when we drive at 320 or 340 km/h, if something happens, your life is at risk.
Tomorrow, the Big Circus will pay homage to Marco.