SCUDERIA FERRARI REIGNS ON THE ICE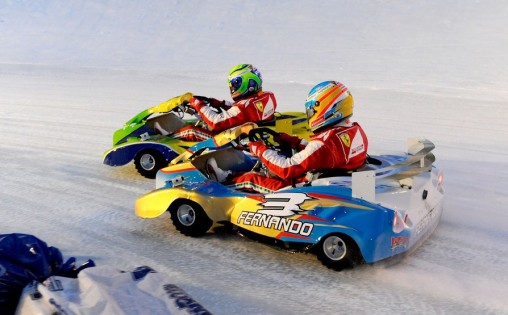 The sky lit up with fireworks to salute the double win for Fernando Alonso on the ice lake at Campiglio at the end of a go-kart race between the Scuderia Ferrari drivers and the Ducati Team riders. The event also featured the appearance of a Ferrari FF in the role of Safety Car. Starting alongside his team-mate Felipe Massa, Alonso soon found himself at the back of the pack after a spin, but he fought his way up through the field to take the win in the first leg. He won the second leg too, in a race where the grid was based on the reverse order of the previous race result. It took the Spaniard just a handful of laps to work his way up into the lead, thus finishing first overall, ahead of Massa and Giancarlo Fisichella.
Earlier in the day, the Ferrari men took part in the traditional ski race, where winner in the drivers' category was Giancarlo Fisichella who finished ahead of Felipe and Dudu Massa. The curtain came down on another unforgettable Wrooom event with a farewell party.