The impact of the exhibition of Fernando in Sepang has been around the world. On Monday, the front pages of the most influential newspapers at national and international scope surrendered to the superb performance of Alonso in the F1 GP in Malaysia.
In Italy, the Spanish pilot's performance was praised by all media. La Gazzetta dello port gave Fernando the front page under the title "ALONSO WIZARD". Another reference newspapers, the Corriere dello Sport headline on the front page "ALONSO THE WIZARD" La Stampa "MIRACLE ALONSO" and La Repubblica entitled "ALONSO IS BACK, KING OF THE RAIN." In France L'Equipe praised the performance of Fernando emphasis on its front page "ALONSO IMPERIAL".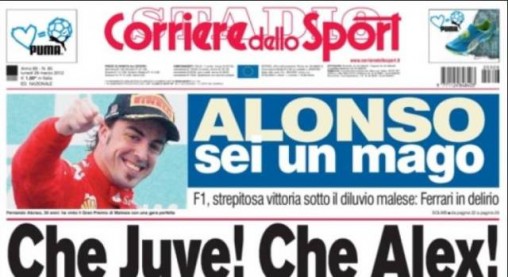 Back in our country, all national newspapers and especially the sportive ones opened their editions with endless adjectives to refer to the great performance in the rain of Fernando Alonso. Marca titled "WALK ON WATER ALONSO", while the daily "AS" summed up the victory of the pilot with a resounding "ALONSO WORLD CHAMPIONSHIP LEADER" "MAGIC ALONSO" is headlined Mundo Deportivo newspaper and 'Sport' newspaper bet with a "GREAT ALONSO".
Fernando is Great!