Surpassed expectations
In his debut for McLaren-Honda at the Sepang Circuit in Malaysia, Fernando was surprised with the evolution of the car. Still, he was only able to complete 22 laps when he was advised to stop through the team radio.
A warrior bears the path of self-improvement. His life is a challenge and challenges aren't good or bad, they're simply challenges…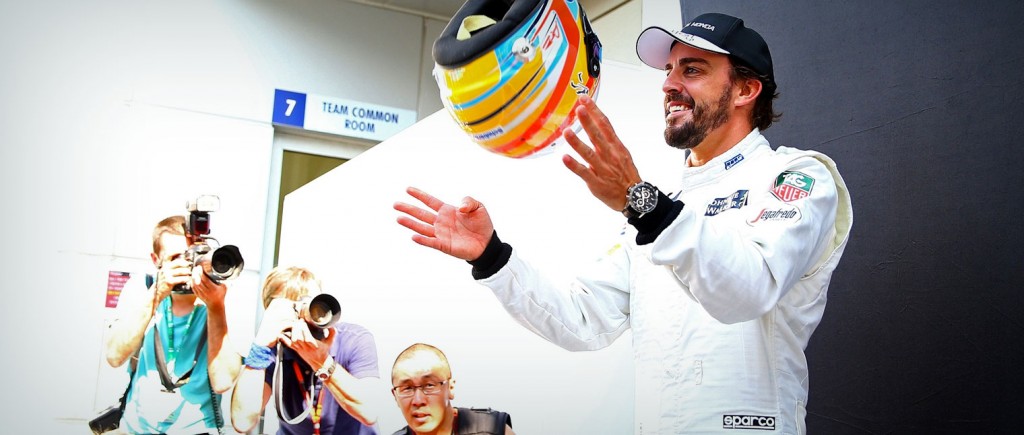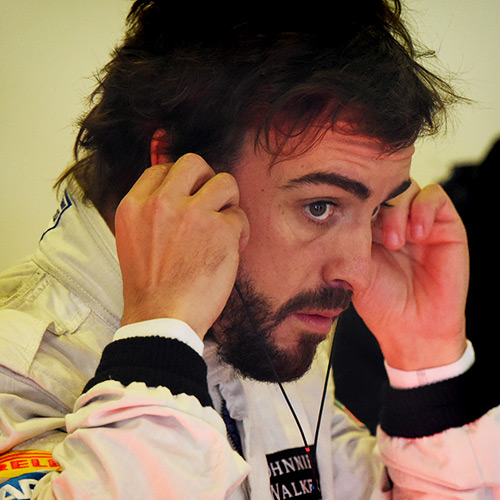 2015
Fernando doesn't take part in the first race of the season, his first race with McLaren, because of an accident in preseason testing at Montmelo.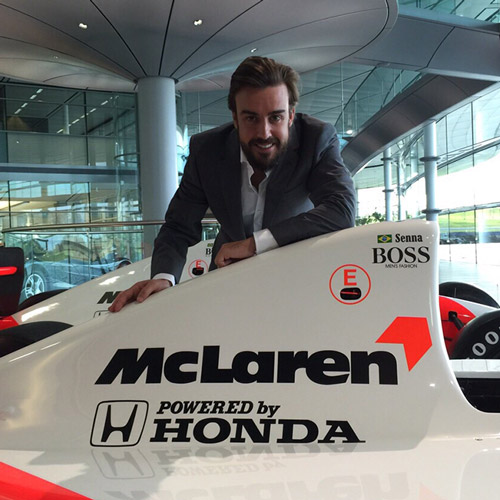 Fernando joins the McLaren-Honda project
After 5 years at Ferrari, Fernando looked for new competitive challenges and decided to move to McLaren, this time with a Honda engine, a classic combination. McLaren and Honda joined forces again after 22 years to offer Fernando Alonso and Jenson Button the best car possible and fight against the supremacy of Mercedes.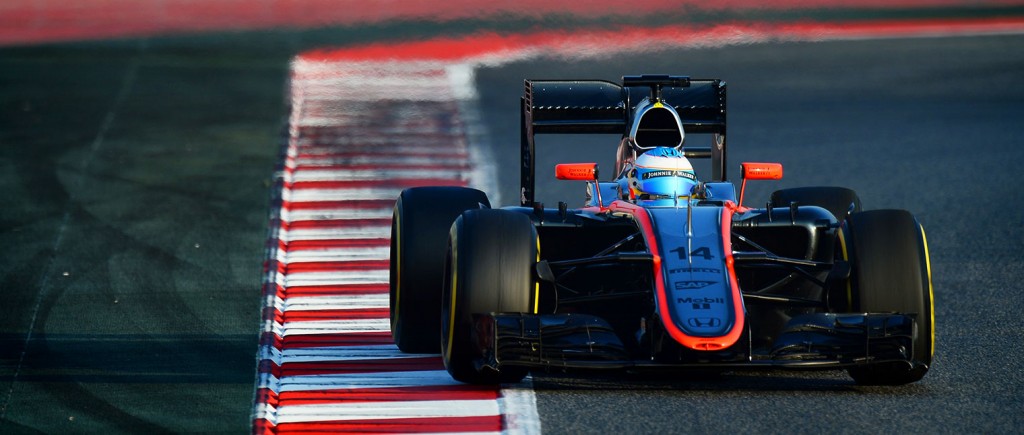 December 2014
Fernando signs for McLaren team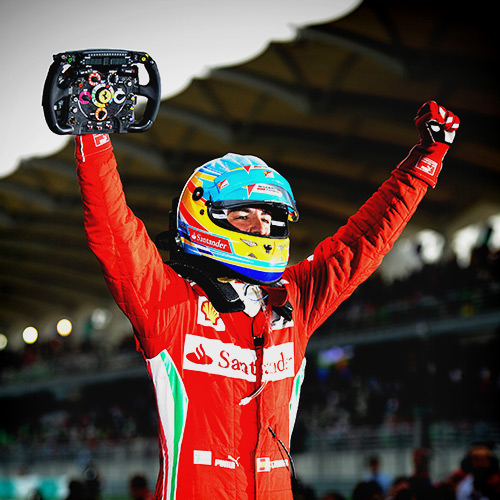 2013
Fórmula 1 Vice-Champion with Ferrari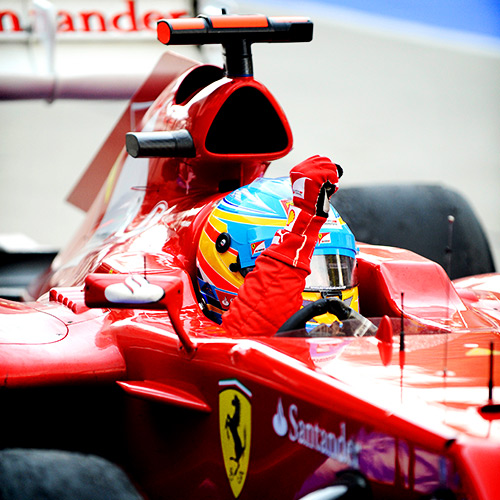 2012
Fórmula 1 Vice-Champion with Ferrari.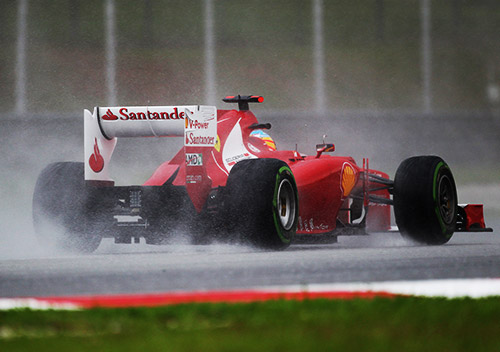 2012
The F2012 provided less joy than expected in its first Grands Prix, except Malaysia, where Fernando Alonso showed his class to achieve a hard-fought win under the rain.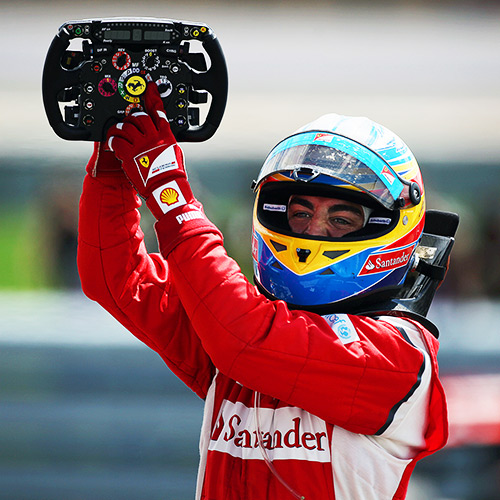 2011
Second year at Ferrari and expectations were not met because the F150° Italia was never at a par with its main adversaries. Even so, Fernando competed at the highest level and achieved a memorable victory in the Great Britain GP at the Silverstone racetrack. He was second after that victor, but the technical inferiority of his car made recovery impossible. Despite it all he fought for second place almost until the end and concluded the season in a more than admirable 4th place.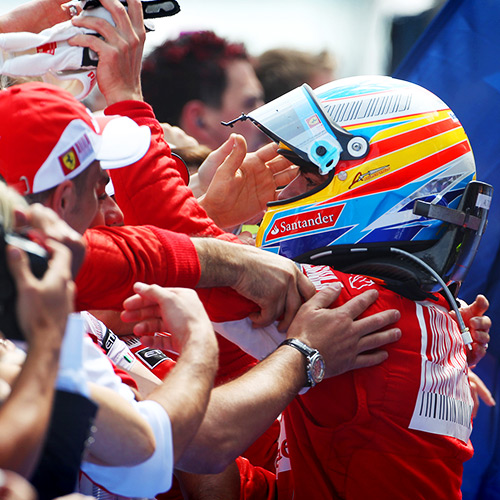 2010
Fórmula 1 Vice-Champion with Ferrari.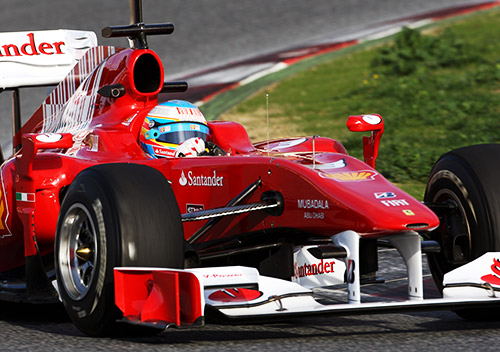 Ferrari
On his debut with the Italian team in pre-season testing in Valencia, Fernando was fastest for the day, and his first Grand Prix went like a dream. In Bahrain he started from third on the grid before racing to victory.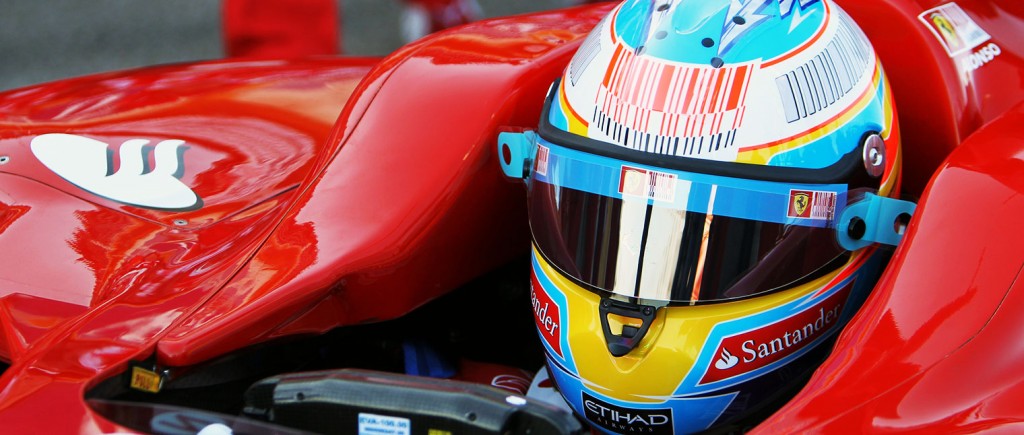 2010
Fernando signed for Ferrari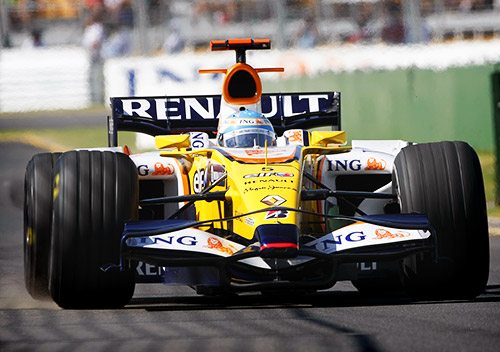 2009
Fernando stayed at Renault for a further season with a car, the R29, which did not prove as competitive as hoped. One pole position and one podium finish were enough to give the Asturian driver ninth place, and although it was not his finest year, his racing was of a high standard.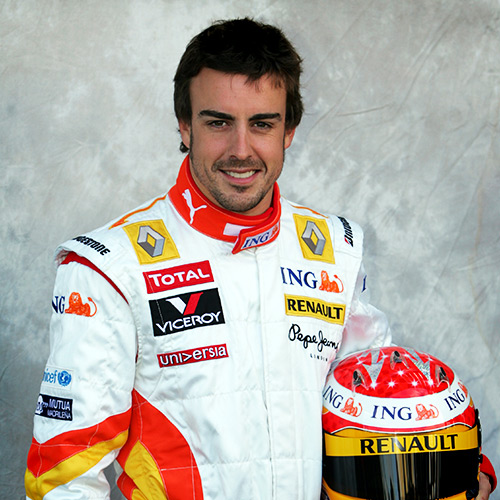 2008
Fernando decided to return to his first home: Renault. There he achieved a fifth-place finish in the World Championship, with two victories and three podium finishes.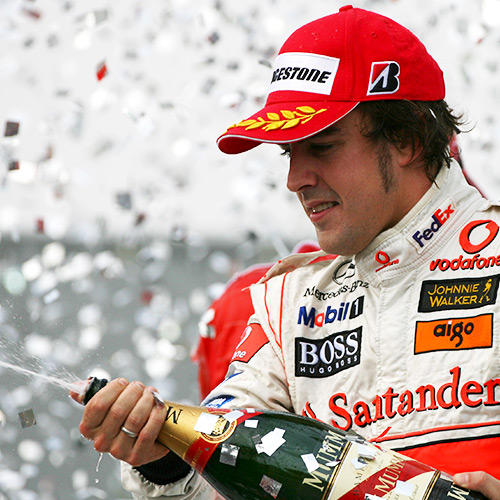 2007
Fernando Alonso signed for the McLaren team, racing in the MP4/22 car with which he achieved third place in the World Championship. The figures speak for themselves: four victories, two poles and 12 podium finishes.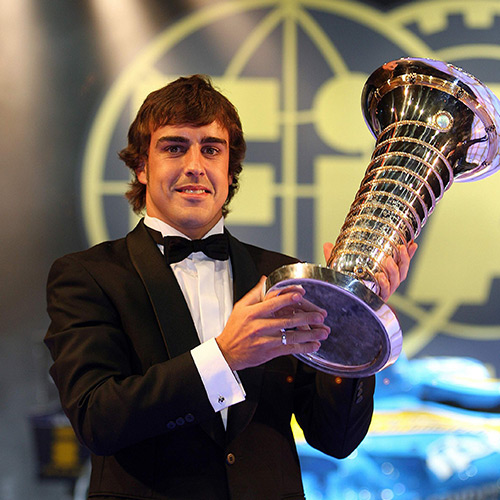 7 victories, 6 Poles and 14 podiums
His tally for the season provides further proof of a born champion.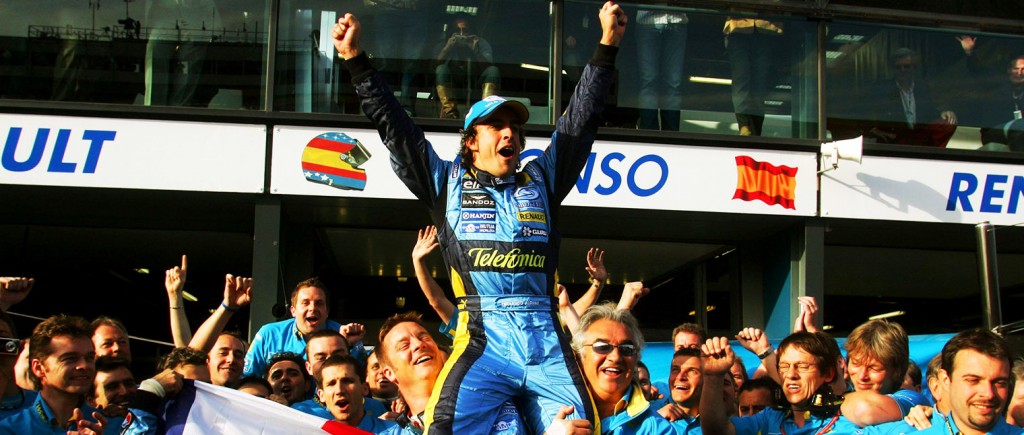 2006
Fernando was once again world champion, this time clinching the title in a thrilling final race.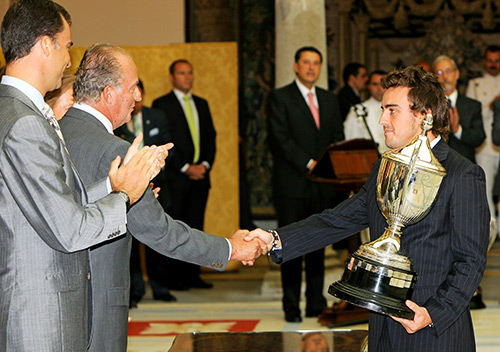 Prince of Asturias Award 2005
His country of birth was also keen to honour his achievement, in the form of the Prince of Asturias Award for Sport.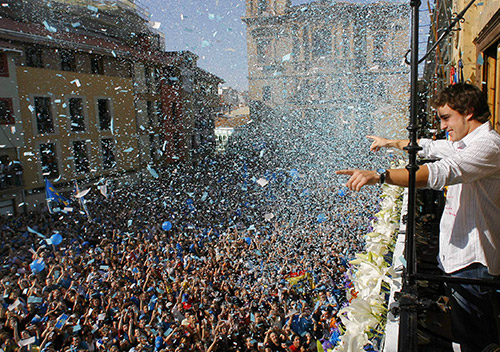 7 victories, 6 Poles and 15 podiums
In 2005 Fernando made history: as the first Spaniard to become World Cup champion.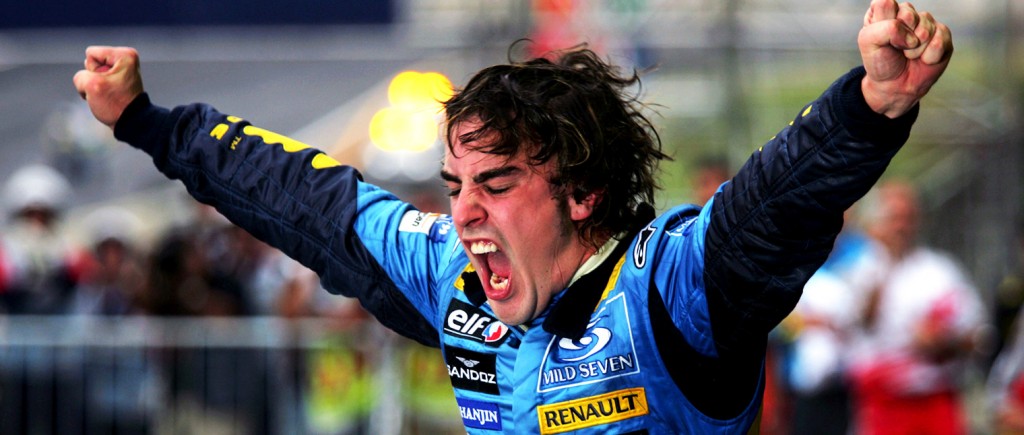 September 25, 2005
Fernando becomes Formula 1 World Champion for the first time at the Brazilian Grand Prix and becomes the youngest driver to ever achieve it.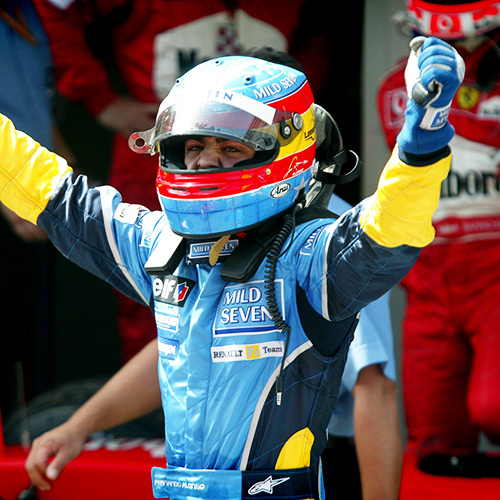 2004
Fernando did not win any races, but racked up more points than the previous year and also achieved one of the best starts ever, finishing third in the US Grand Prix having been ninth on the grid.
2003 Record of achievements
That same year Fernando became the youngest driver to achieve a pole position: in Malaysian GP at the age of 21 and also the youngest driver to win a Grand Prix: in Hungary, at the age of 22.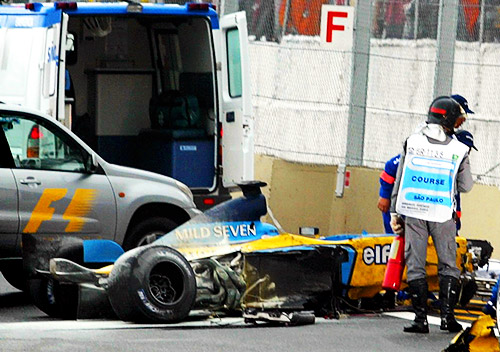 2003
Fernando was given his full racing colours after Jenson Button moved to BAR. On his debut with Renault he finished seventh in Australia. 2003 was also the year when he suffered the worst accident of his career, colliding with a wheel after Mark Webber had suffered an accident in the Brazilian GP.
Entrenamientos con Jaguar
En 2002, como tercer piloto de Renault, Fernando pilotó el mítico Jaguar R3 en unos entrenamientos oficiales durante 57 vueltas.  Sin haberse subido nunca a ese monoplaza quedó 4º y superó en casi una décima los tiempos de Pedro de la Rosa y en tres décimas a Eddie Irvine, pilotos oficiales de Jaguar entonces.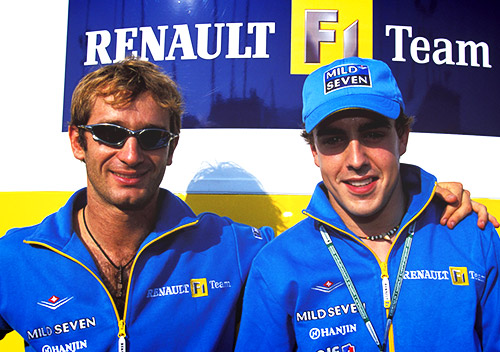 2002
Fernando's secondment to Minardi came to an end, and so he headed back to Renault. He spent a year there as a test driver.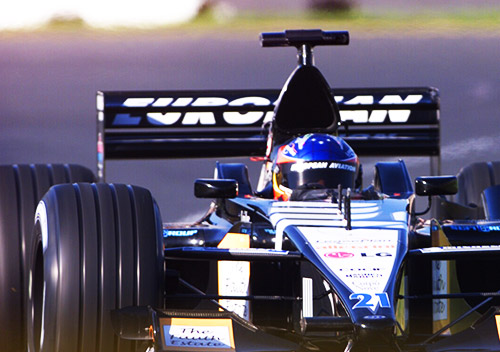 2001
His debut came in 2001 in Australia. The best finish he achieved with Minardi was a tenth place in the German Grand Prix.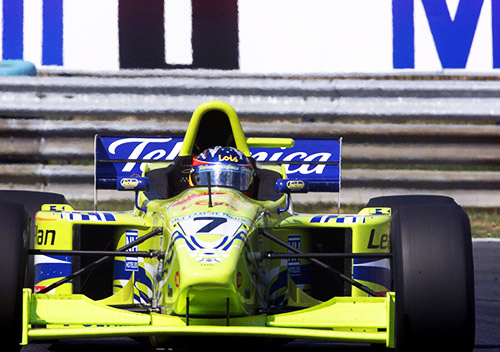 2000
Following a brief stint in F3000 with the Astromega team, Fernando finally ended up in Formula 1 for good. Ferrari took an interest in him and offered him a role as a test driver, but after that verbal agreement Flavio Briatore enquired after Fernando, ultimately leading him to sign for Renault, who loaned him out to Minardi.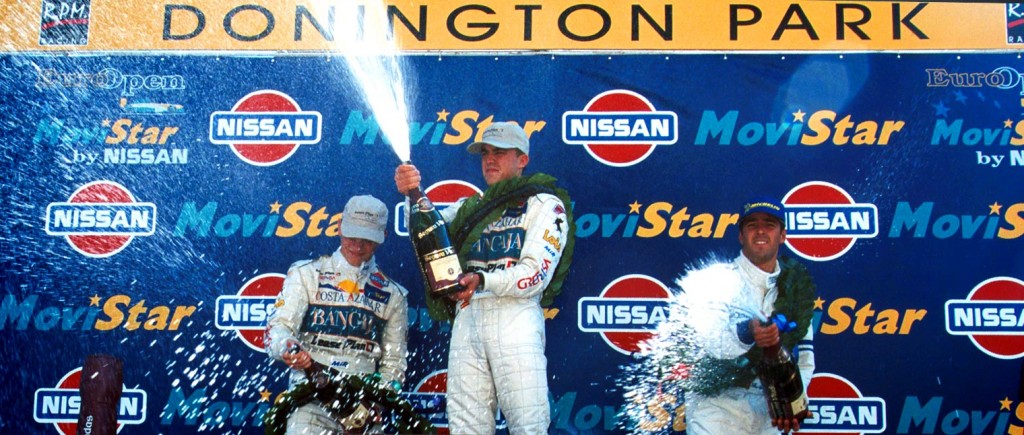 1999
In Formula Nissan Fernando achieved 9 poles and 6 victories, making him the Euro Open Movistar Champion.
Adrián Campos remembers...
He said to me that he needed to learn how to push it to the limit throughout the whole race, and that 'I won't stop until I do'. In the second race at Albacete he won, and I remember saying to him over the radio: 'Fernando, you've got a 42-second lead over the next guy, slow it down,' and he said to me: 'I'm wearing my brake pads out, I can't go any slower'.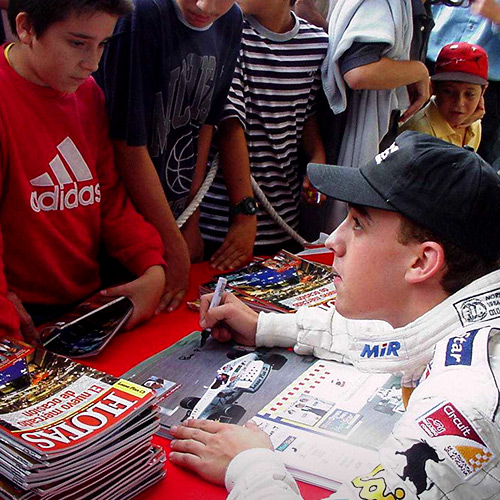 1999
It was in 1999 that Fernando was given his first opportunity in Formula Nissan. Ex-Formula 1 driver Adrián Campos selected the Asturian as the replacement for Marc Gené.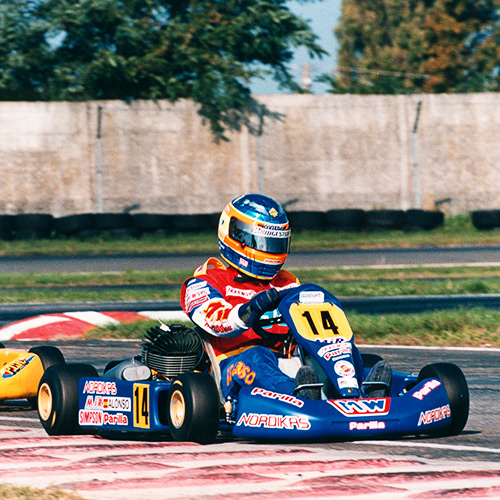 1998
He won the Paris Bercy, was Spanish International A champion, won the Parma Industry Trophy and the Open Ford, and was European Formula A runner-up.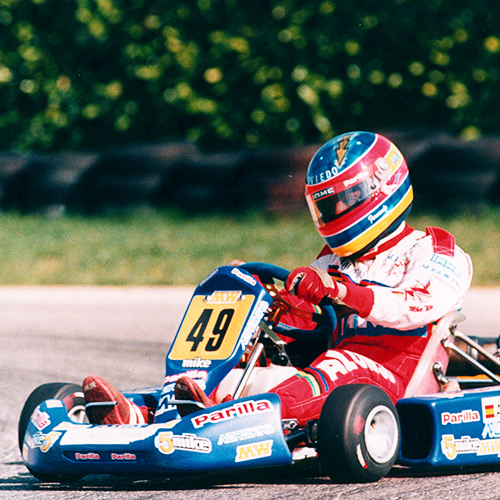 1997
He won championships in Spain and in Italy.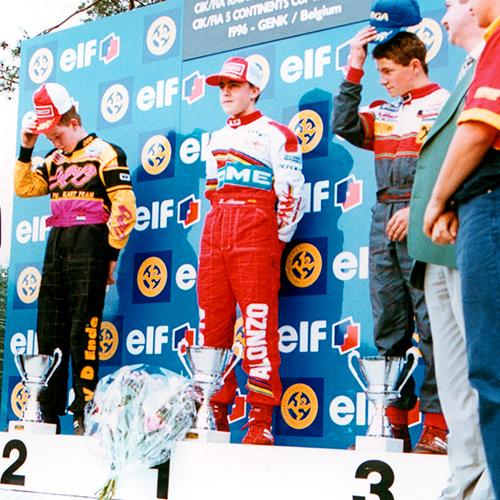 1996
He won the World Junior Title in Ghent, and the national championship in Sils.
At the age of just 14 he was playing mentor to youngsters aged 7 and 8
I like the mechanical side, and helping other kids gave me personal satisfaction, while also giving me some extra income to help out. I was paid around 100,000 pesetas, or 600 euros, and that helped meet the costs so I wouldn't be a burden to anyone
1995
In 1995 he finished third in the World Championship held in Braga.
1993
He won the Spanish Championship with Genikart and since that moment, Fernando started adding awards to his record of achievements.
I've always been the youngest at every category, and so maybe that's why it strikes me as less of a big deal then it should do. It may seem like I'm not celebrating all my achievements, but I do value them.
He won the race at a canter. After that race Mr. Marcó said he could race with them in the Spanish Championship, and I was no longer his mechanic.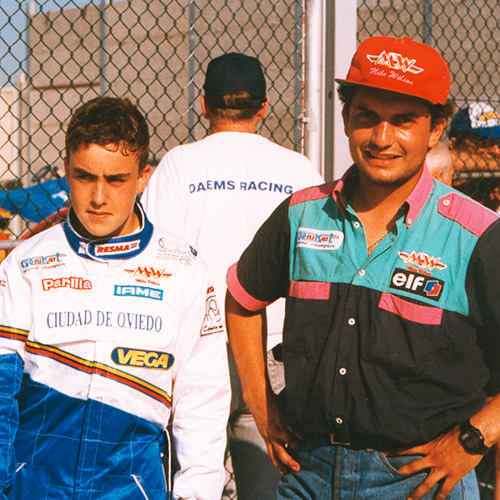 Genis Marcó set him a trial
"He had not even turned twelve when Genis Marcó (owner of Genikart, importer of Parilla engines and Mike Wilson chassis) set him a trial. He was racing in the Catalan Championship at Mora de Ebro, south of Barcelona, and Fernando new that this was the most important moment of his life. It was the make or break point at the start of his sporting career", claims his father.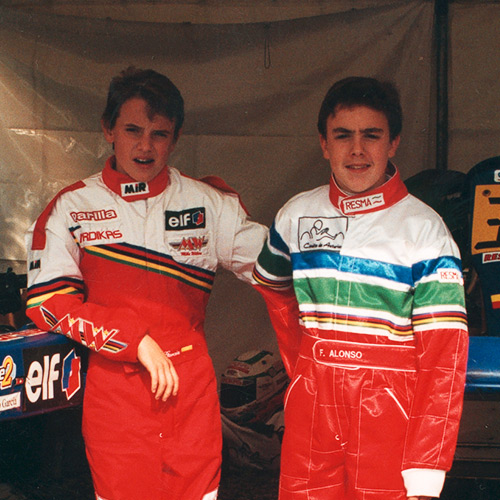 1992: Races in the 100cc category
Fernando raced in the 100 cc category, requiring special dispensation from the Federation since given his age he should have been competing with the juniors. It was at a very young age that Fernando was faced with one of the defining moments in his life.
1991
The same year he clinched runner-up spot in the Spanish championship at the Santos de la Humosa track, near Madrid.
The only way to progress was for Fernando to win races and for someone to mark him down as a racing driver for the future. Fernando knew that if he was to go any further it was all up to him, and he made the grade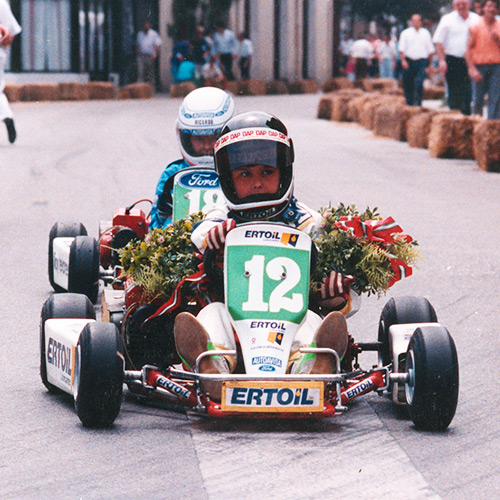 1991
By 1991 Fernando's passion was becoming more intense. "We didn't have the financial resources to allow Fernando to compete at higher levels", according to José Luis. "Fernando was always aware of the efforts which we were all making as a family. I would be going along to all the races to act as his mechanic, his mum had to do without seeing her son at weekends, which was the only time she could be with him. Lorena didn't get as much time with her brother as she would have liked…"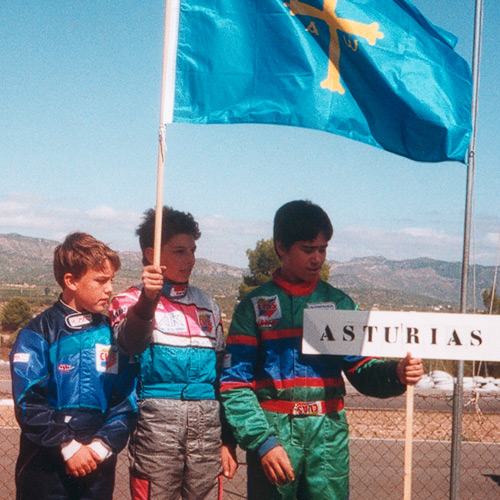 1990
By this time racing in the juniors, he won his first victories in Asturias and in the Basque Country.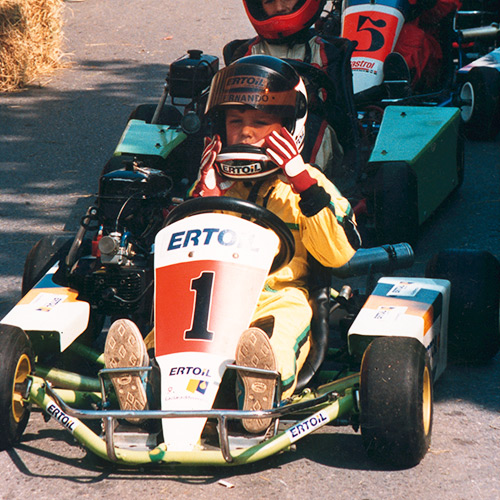 1988: His first victory in Pola Liviana
And he ended up winning the children's title the same year, claiming eight race victories during the championship.
1988
He achieves his first racing victory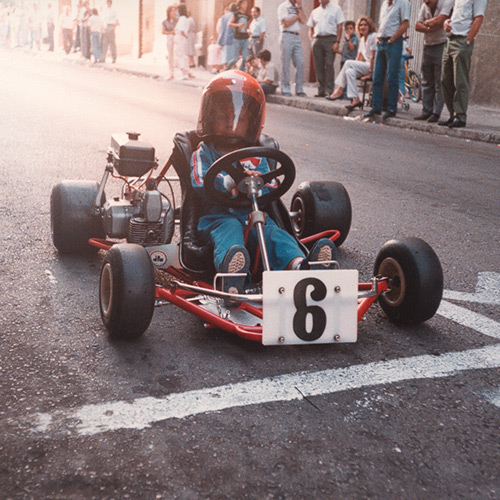 Child's play
"It all started out as just a plaything, but from the age of five or six it was clear that he had more of a spark than other kids of his age", says the racing driver's dad.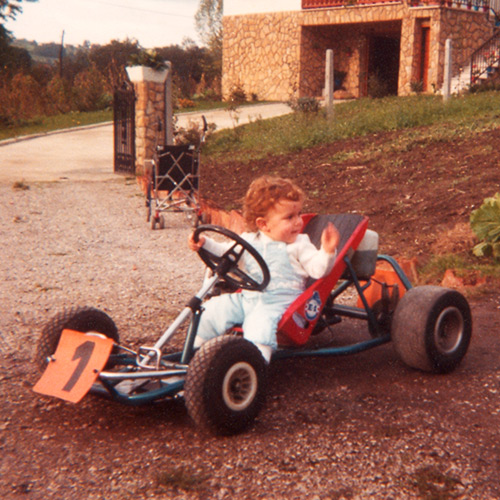 Pedals needed adjustment...
The first time Fernando Alonso got his hands on the car was at the early age of three. His father, José Luis Alonso, a big kart fan, decided to build one himself for Fernando's eight-year-old elder sister, Lorena. She didn't particularly take to the pocket rocket, but her kid brother most certainly did. The pedals needed some adjustment, but Fernando was able to get karting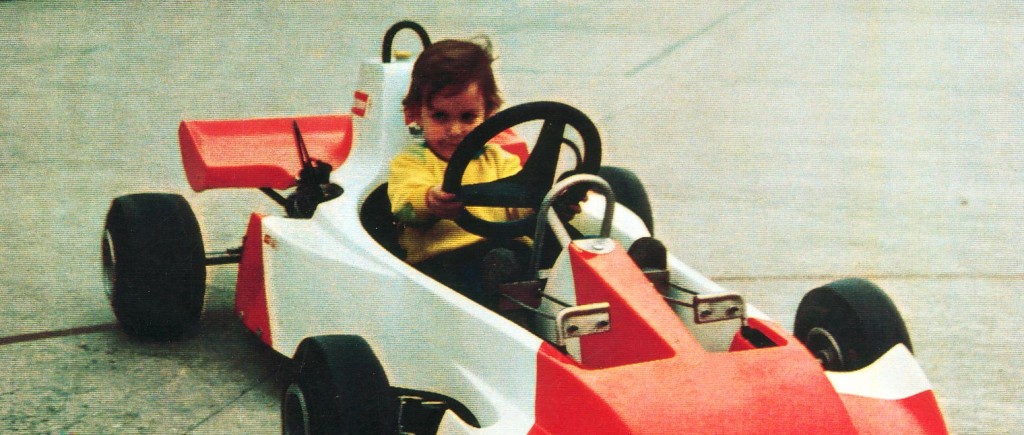 1983
Fernando's career starts at the very early age of 3.
Fernando celebrates his 3rd birthday
Fernando was born on July 29th, 1981 in Oviedo, Asturias (Spain)